EXPLORE THE ARTWORK OF Peter Allan Rice
[fwd360pv preset_id="Peter Spins 2″ product_id="Leau-Dansante"]

Read about the Art by Peter Allan Rice
Learn about important milestones in Peter Allan Rice's artistic career illustrated with a visual timeline.
Iris (1986) This is the first time that Peter has shared the very first piece of glass he created over thirty years ago.  This small Iris, made from eight pieces of glass, and not of his own design, introduced him to the basics of glass work.  From this simple beginning, he began exploring ways of capturing the natural world using self-taught techniques.  His wife insists on hanging this flower on a window in their home to remind him of how far his art has progressed.

Georgian Bay Sentinel (1991) Inspired by locations from his youth, such as the shores of Georgian Bay, Peter began to interpret windswept pines on flat panels.  There is one small hint of things to come in this piece, as a few small, wire, branches were added that protruded from the glass surface.
Tree of Courage (1996) This was a pivotal piece in the evolution of Peter's work, as he created one of his first windswept pines that stood out from the flat surface of a panel.  It was necessary for him to build this island, made from Agate and glass, in order to place the tree above the glass and avoid "solder lines" in the solar feature behind it.  It was the first time that he moved from a rectangular shape by using a scalloped, freeform edge and curved wire to give the effect of motion.

Autumn Wind (1999) This was one of the first pieces Peter created that involved an angled background and removeable tree and island features.  The background consists of three multi-pieced panels that surround the central focus.  It was necessary to create it in this two piece manner, because its sheer weight would create structural problems that would no doubt lead to breakage.

L'eau Dansante (2004)  One of Peter's early abstract pieces allowed him to explore cutting some difficult shapes in glass, introducing glass beads, and setting it on a stone base. It also tested his skill by experimenting with intertwining structures in a manner that required a great deal of precision.
Mew Lake Mist (2014) This piece was one of the first in the "out of the mist series," where Peter placed images on the back of the glass to create the illusion of distant objects obscured by the morning mist.  He also experimented with placing features, such as branches, off the framed area of the piece. He began developing techniques to give the impression of tree bark in this piece as well.
Lake of Two Rivers (2018) Even though this was not the first piece to include reflections in the water and misty backgrounds, Peter has taken this technique to a new and exciting level with the use of Granite and glass, in combination with the misty shoreline, to create this effect.  The reflecting red canoe creates a very effective central focus.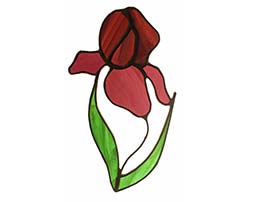 Peter's very first piece of glass from over thirty years ago.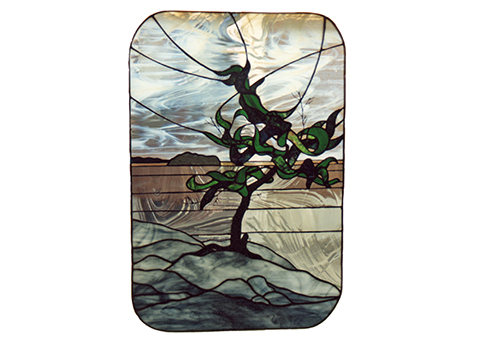 He started to create windswept pines in his own unique style.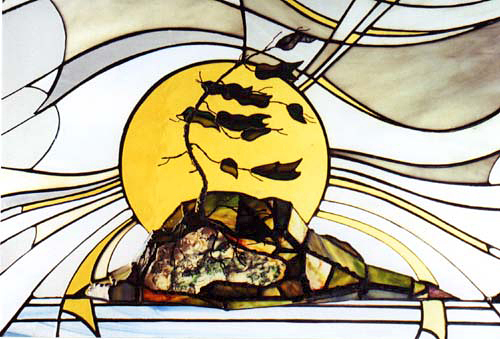 One of the first windswept pines on a panel.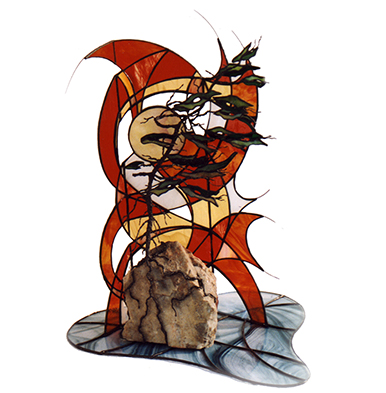 It was necessary to make the island and tree separate from the background.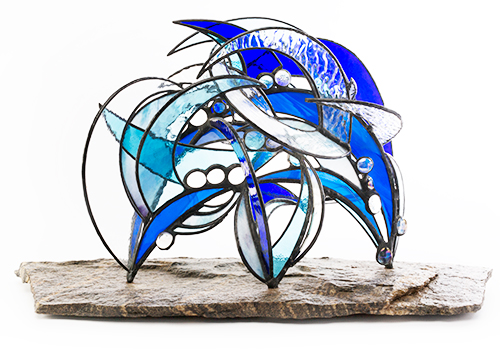 One of Peter's first abstracts.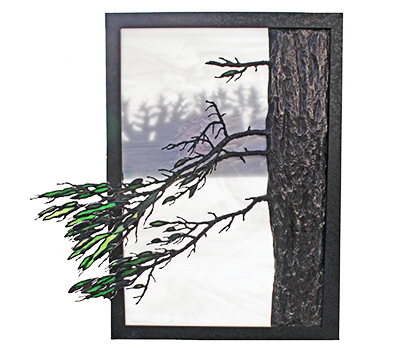 Misty images were created by placing them on the back of the glass.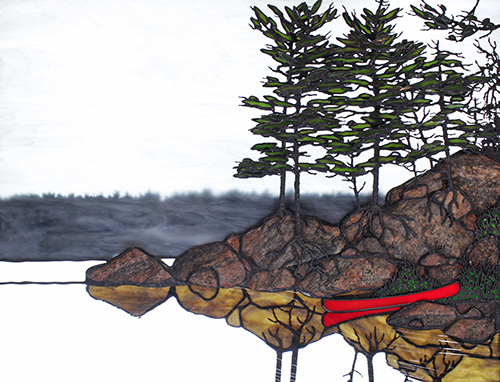 The use of reflective features and misty backgrounds are now common in Peter's work.