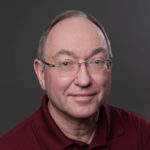 Combine Lawren Harris, Muskoka rock, copper and dynamic, colourful glass to create immaculate sculpture and you have the amazing work of well-respected artist, Peter Allan Rice. Peter and his glass work have grown and evolved together. Initially capturing light on a two dimensional plane, Peter's physical, emotional, and spiritual journeys have allowed his glass to leap to new dimensions. His three dimensional technique is at the cutting edge of glass work and has taken the art to another level. His glass artisanship captures the lonesome beauty of a windswept sky, the rugged gentleness of rocks and trees, and the innocent interplay of plant and animal life. It weaves the fabrics of our experiences into a three dimensional medium which envelopes our soul.
"When people view my unique glass and stone sculptures for the first time, I want my work to transport their imagination to a place that's familiar and comfortable to them. A location that they may have valued as a child, and still strive to return to in order to seek solace in the peace and calmness of unspoiled landscapes."
Peter Allan Rice was born in Toronto in 1955, but spent most of his childhood years living in rural locations within or around the great Canadian Shield. The early influence of playing and exploring among the rocks, water, and trees were to have a strong influence on his art in later years.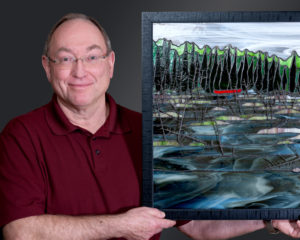 Peter's love for artistic interpretation led him to obtain a degree in Visual Arts at Guelph University in 1977. Here, under the guidance of artists such as Walter Bachinski and John Fillion, he was able to study and experiment with all varieties of artistic expression in his search for his ideal medium.
That search ended a number of years later with glass and stone, and more specifically, sculpture. Peter began to create his own unique images of the pines and waterways that had been a big part of his life while growing up.
His earlier pieces were created on a more traditional two-dimensional plane, depicting sweeping skies, and wind blown pines.
After learning the basics of glass work from others, Peter was self-taught in this medium. His desire to grow and explore the sculptural possibilities of stained glass, resulted in him experimenting with the angling of sections of glass to create three-dimensional effects.
He began to place wire and glass pine trees apart from the flat background, so they became a silhouetted image in both hanging and free-standing pieces.
Peter's strong desire to create a technique he could truly call his own, led him to the development of his present technique. The use of granite and quartz bases for his work, anchor the swirls of glass and metal to create sculptural landscapes totally unseen before in this medium.
Peter was named "Top Sculptor" at the McMichael Gallery Volunteer Committee's Autumn Art Sale in 2017, 2018, and 2019, and was "Best in Show" in 2019.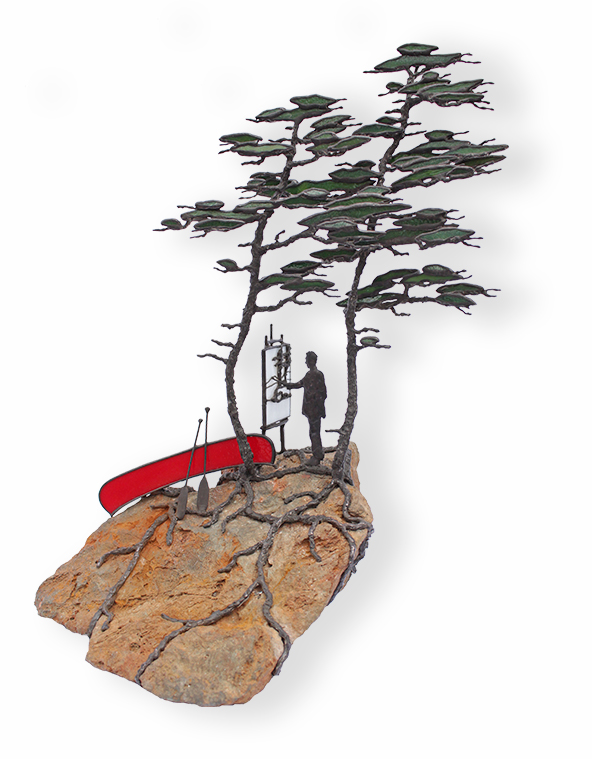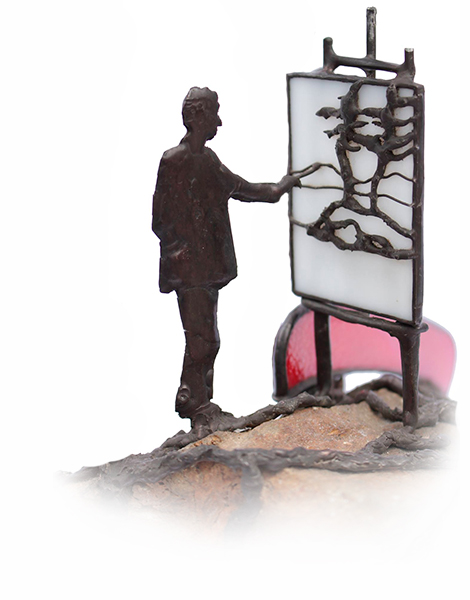 Realism and abstract subjects are both represented in his work, and the selection of the perfect glass and the attention to the smallest detail make his pieces truly one of a kind.
Peter's sculptures are in collections throughout North America and Europe, and he has had showings at the National Arts Centre, as well as representing his work regularly, over the last two decades, at The Algonquin Arts Centre with many of Canada's foremost wildlife artists.
He was also honoured to be named one of the top ten artists at the prestigious McMichael Gallery Autumn Show.
Because of the natural subject matter of his pieces, he has had the opportunity to place his work in many smaller galleries throughout Ontario.
Peter is pleased to be showing his work at Perivale Gallery on Manitoulin Island, Gallery 212 in Temagami, and Cornerstone Gallery in Kingston. He has participated in the well attended One of a Kind Show in Toronto for the past number of years.
As the changing light passes through his glass sculptures, the beauty of a misty Muskoka morning, the pristine freshness of snow covered pines, or an Algonquin landscape ablaze in autumn's glory, can be fully enjoyed and appreciated time and again.
"As the changing light passes through each piece, it is my hope that the images, and written descriptions, touch the emotions of each viewer who comes in contact with them. I strive to use my words and sculptures to inspire others to become more active stewards of this Earth, and develop a greater sensitivity for the needs of all who share its precious and fragile riches."