[fwd360pv preset_id="Peter Spins" product_id="Celebration Spinner"]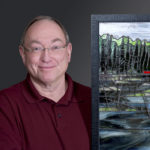 Combine Lawren Harris, Muskoka rock, copper and dynamic, colourful glass to create immaculate sculpture and you have the amazing work of well-respected artist, Peter Allan Rice.
Peter and his glass work have grown and evolved together. Initially capturing light on a two dimensional plane, Peter's physical, emotional, and spiritual journeys have allowed his glass to leap to new dimensions.
Peter's three dimensional technique is at the cutting edge of glass work and has taken the art to another level.
His glass artisanship captures the lonesome beauty of a windswept sky, the rugged gentleness of rocks and trees, and the innocent interplay of plant and animal life. It weaves the fabrics of our experiences into a three dimensional medium which envelopes our soul.
Peter was named "Top Sculptor" at the McMichael Gallery Volunteer Committee's Autumn Art Sale in 2017, 2018, and 2019, and was "Best in Show" in 2019.
"When people view my unique glass and stone sculptures for the first time, I want my work to transport their imagination to a place that's familiar and comfortable to them."